2019 Most Affordable Online Catholic Colleges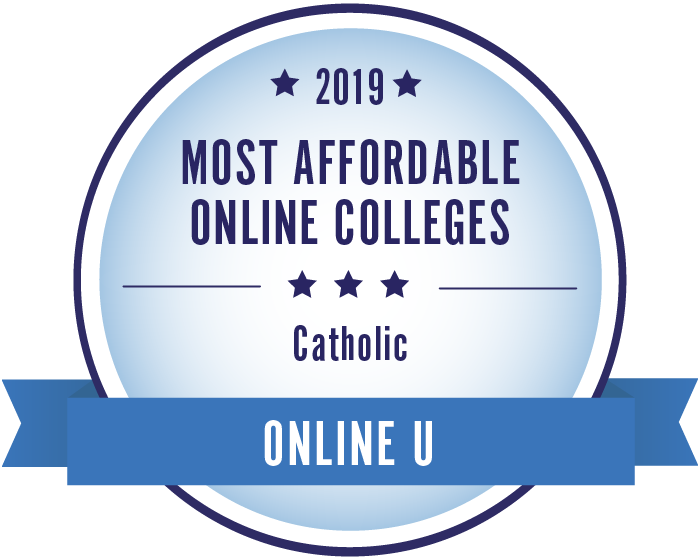 Students seeking affordable online education at a Catholic institution will find excellent options on OnlineU's 2019 list of Most Affordable Online Catholic Colleges. Online bachelor's degrees at these 25 colleges have annual tuitions of under $15,000, and the average tuition is $12,115. Many of these schools also offer associate, master's and doctoral online degrees. Mount Carmel College of Nursing, ranked #1, offers an online Bachelor of Science in Nursing degree with an annual tuition of here and the average number of years to complete for a full-time student, which is 4.0 and found here.">$5,053. Ranked #7, Rivier University offers online bachelor's degrees in subjects including psychology and business administration.
You can read more about our ranked schools below. View our methodology or learn more about OnlineU.
All tuition numbers were manually collected and verified
Rank
School
Annual Tuition

# 1
Mount Carmel College of Nursing

$5,053

# 2
Anna Maria College

$7,029

# 3
Barry University

$7,410

# 4
Gannon University

$9,568

# 5
Ursuline College

$9,720

# 6
La Salle University

$10,000

# 7
Rivier University

$10,800

# 8
Dominican University

$11,250

# 9
Quincy University

$11,400

# 10
Notre Dame of Maryland University

$12,000

# 11
St. Catherine University

$12,206

# 12
Marian University

$12,480

# 13
Madonna University

$12,600

# 14
Spalding University

$12,600

# 15
The College of Saint Scholastica

$12,640

# 16
Marian University - Wisconsin

$13,500

# 17

(tie)

Brescia University

$13,600

# 17

(tie)

Wheeling University

$13,600

# 19
University of Saint Mary

$13,720

# 20
Alvernia University

$13,800

# 21
Viterbo University

$14,100

# 22
Avila University

$14,430

# 23
St. Peter's University

$14,850

# 24
Saint Mary-of-the-Woods College

$14,880

# 25
University of Mary

$14,880